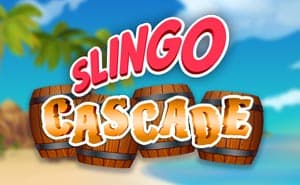 Slingo Cascade
About Slingo Cascade
Slingo Games combine both UK Online Slots and UK Online Bingo to form Slingo, one of casino's quirkiest creations! Slingo Cascade is a pirate-themed Slingo Game that allows you to win big with the help of bonus features such as the Free Spins Bonus. As per with the majority of Slingo Games, it is your job to match the numbers on the grid with the reel below, where you get nine spins to play with. If numbers match, the number will be converted into a star and the barrel will be ignited. If you get five barrels in a row, this will form a Slingo which will progress you through the game and the barrels that form the Slingo will be removed and replaced by new barrels. This gives you the chance to create further Slingos and progress at a faster rate, thus getting the opportunity to win cash prizes on the ladder to the left of the grid. In addition to Slingos being removed and replaced by falling barrels, singular matching numbers will also be removed and replaced by new numbers, which may potentially lead to further Slingos being formed.
How to Play Slingo Cascade
Set a stake that you're willing to bet by using the + and - buttons on the screen and be aware that you can use these buttons to adjust your stake at any point. Once you are ready to play, select the 'START GAME' button in the steering wheel to spin the reel and begin the game. When you want to spin the reel again, select the 'SPIN' button, also inside the steering wheel. You will begin the game with nine spins to use and Free Spins can be accumulated as shown to the right of the grid, allowing for further opportunities to match numbers, form Slingos and win cash prizes! You can also purchase extra spins at the end of the game.
Slingo Cascade Bonus Symbols
Cherub Symbol
If the Cherub symbol appears on the reel, this will cross off between 1 to 5 numbers.
Free Spins Symbol
Each Free Spin Symbol that lands during the game will add an extra spin to the bar situated on the right of the grid. All Free Spins can be used at the end of your nine original spins.
Legs Eleven Online Slots UK Thinks
Slingo games continue to grow in popularity here at Legs Eleven and titles such as Slingo Cascade demonstrate that to a tee! This Slingo game contains a quirky and colourful pirate theme with amazing aesthetics to match. With the bonus features on offer, it is certainly a case of quality over quantity as whilst there are only two, both these bonus features can offer a lot and could help match numbers, form Slingos and ultimately win cash prizes!
Register at Legs Eleven for the best online slots and new online slots too! If you are new to slots, How To Win At Slots may be a helpful start to slots at Legs Eleven. Upon registering with us, you will have exclusive access to welcoming offers such as the Free Spins No Deposit offer plus more! We do ask that you make yourselves aware of safer gambling before signing up. T&Cs apply.