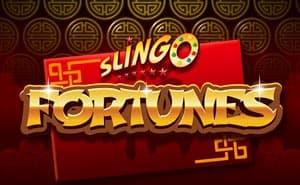 Slingo Fortunes
About Slingo Fortunes
Slingo Games are incredibly well thought of here at Legs Eleven Online Slots UK due to their combination of both online slots and UK Online Bingo. In Slingo Fortunes, you have the opportunity to win big, however it is a game of wits as you are in control of how you play this game. Slingo Fortunes is played on a 5x5 grid where there is a betting range of £1.00 to £100, allowing for plenty of variation when setting your stakes.
As with the majority of Slingo Games, in Slingo Fortunes you will be given a list of numbers as you would in Bingo, which you then have to match up by spinning the reel, as you would in slots. You will start the game with 26 envelopes and it is up to you to pick one to be put to one side until the end of the game as a potential alternative to any winnings you may earn. In each envelope, there is a prize amount and the aim of the game is to eliminate envelopes by crossing off numbers as you match the numbers on the card with those on the reel. The aim of the game is to remove all the low valued envelopes from the grid. Opening five envelopes in a row, either horizontally, vertically or diagonally will form "Slingos" and for each Slingo you will move up the prize multiplier ladder to the left of the grid.
How to Play Slingo Fortunes
Set your stake using the + and - buttons on-screen and click the SPIN button to begin the game by spinning the reel. You will start with 10 spins, however once these have been used you can purchase more, or alternatively use Free Spins accumulated during the game.
If you get to 5 or more Slingos, your prize multiplier will increase by 1x per Slingo with a maximum of 20x able to be won. If you achieve 4 Slingos, you will be offered an alternative prize to win, which will be based on the values that are left in the game. You can 'ACCEPT' this offer and take your winnings or 'REJECT' to carry on playing. As you progress through the game, you will encounter bonus features and symbols that will impact the gameplay.
Slingo Fortunes Bonus Features and Symbols
Jokers
The Jokers are the Wild Symbol that can open any envelope in the column which they land in.
Super Jokers
The Super Jokers are also Wild Symbols, however they can open any envelope in the entire grid!
Free Spin
Each Free Spin Symbol will give you an additional Free Spin to use at the end of the game.
Devil Symbol
Beware the Devil Symbol as this will block Slingos from forming on the grid!
Legs Eleven Online Slots UK Thinks
Here at Legs Eleven, we are embracing Slingo Games as well as the highly iconic Slingo mechanic which takes influence from both online slots and online bingo. Slingo Fortunes is an excellent Slingo Game due to the prizes on offer that can ultimately lead to big wins as well as excellent gameplay. Whilst Slingo Games aren't as well known as slots and bingo games, they are still incredibly popular amongst those who play it with titles like Slingo Fortunes having simple navigation and easy how-to-play instructions.